Happy Friday! Hope you had a great week! Ang and I have had fun participating in
Katie
and
Stephanie's
Saw It. Pinned It. Did It. link up the past two weeks. It's been fun to hear from fellow bloggers and see what Pinterest projects they've been working on!
With all of the fun we've been having with the link ups, why not try another? Today we're linking up with
The Bargain Blonde
for Friday Favorites!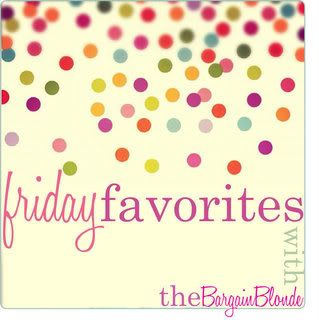 Here are some of my current favorites:
I had my doubts because Connie Britton will always be Tammy Taylor in my heart. Clear eyes, full hearts, can't lose, right (all you Friday Night Lights lovers know what I mean)? I'm still getting used to her as Rayna James but I am definitely loving the show. I plan on downloading some of the songs ASAP. Who knew Connie and Hayden could sing in real life?
Random, yes I know, but it's currently one of my favs. I've only ordered from them twice when I've gotten an email about free shipping. In my head it's always a really good deal but it's probably not. I'm okay with that though because it's nice to have some options in the freezer. We'll just pick out whatever we want and stick it in the fridge the night before to thaw. So far we've enjoyed everything we've tried from them!
3) Our first Halloween in our new house!
I thought it might be creepy to take pictures of our trick or treaters so this is just a picture of my breakfast one morning last week. Breakfast of champions, huh? And that's why I can't keep Halloween candy at my house. Anyway...D made fun of me but I was SO excited to have trick or treaters for the first time. We didn't have very many but it was still fun. Plus we got to meet some of our new neighbors, which was nice.
4) Meghan's baby shower!!
Tomorrow we are hosting a baby shower for this lovely lady.
This mama to be also happens to make AMAZING cakes!
I am so excited for Meghan, Byron and little Baby Harrison!!
At about midnight tonight, I will get to see my blogging partner in crime for the first time since August! We'll also get to spend time with some of our other college friends (shout out to Penney, Sara, Meghan and whoever else we might see this weekend!) and watch the Alabama/LSU game.
ROLL TIDE!!!! What are some of your Friday Favs?? Hope you have a great weekend!